Every year I set an intention to be even more mindful of the care and keep of my clients. It's always my goal to share with our coaching community new and exciting ways they can level up their businesses and their lives. As we prepare to go into a new year, it has been on my heart to share some of my secrets and game changing success tools. All of which will help you become super productive and profitable, while manifesting more in your life and business.

This has truly become a season where entrepreneurs dug deep, shunned their doubts and decided to invest heavily in their advancement. Within our community, I had many proud coach moments this year. I watched with joy as my clients locked into their success tools and systems that they have been taught and prospered in any and every circumstance. Seeing this, I was reminded how incredibly important powerful tools and guided instructions are when you are in the process of manifesting more income and greater opportunities. With that being said, I wanted to give you a sneak peak inside of the sure-fire tools and processes that have caused my clients and I to win big in 2020–no matter what.

Specifically I'm sharing how we use each tool throughout your day. Let's get started… forever first is the Success Journal, my go-to manifestation tool.

1. THE SUCCESS JOURNAL
In my morning hours I like to wake up and do what I call prophetic writing. What happens is I wake up with a burst of an idea for something I'm working on. The other day I woke up with an idea for my Women and Wealth Club; so I began to flush it all out on paper in my Success Journal. With my ideas, hunches and nudges from within on paper, it's so much easier for me to take fast action on what's next.

When you wake up with ideas, open up your journal and just begin to write a free flow script as fast as you can without overthinking so that you can get all of your thoughts out on paper. Often times free flow writing helps to fill in the blanks and complete your ideas.
As you write, imagine the positive outcome you want to have. See yourself succeeding successfully. Imagine how great it feels to be in a new place of achievement. It's okay if you don't have all of the answers in the beginning. Just start with what you do know and new aha's and instructions will begin to emerge.
Often, this morning journaling time results in book title ideas, strategies, hit products, and sometimes instructions to call or contact certain people that may come to mind. Even million dollar ideas… either for myself or sometimes for my clients.
2. MY SUCCESSFUL DAY ACCOUNTABILITY NOTEPADS
When I'm finished writing, I go right from my Success Journal to my Successful Day Accountability Notepads. As women, we can easily get distracted by a number of important priorities that fight for our attention rob our time. So no matter how busy my workday becomes, this one little pad helps to make sure I stay organized, productive and achieving what I set out to do every single day.
At the top, I create 3 intentional tasks that are specific to what I want to accomplish today based on what came to me from my journaling time. Then I do several check-ins throughout the day to make sure I'm staying on task and accountable to what I wrote. It reminds me to also check in on my daily rituals and my health routines and that I'm staying on track to manifesting those things by the days end..to not just take care of my goals, but to take care of ME in the process. This notepad has been a game changer for me.
So once you're done with your journaling time, set your intentions- what do you want to achieve by the days end?
3. MY SUCCESS STICKIES
When I'm in manifestation mode, ideas and aha's come to me all day long. And one of the most important power tools that I carry with me are my Success Stickies. They are a colorful little anchor point that keep me focused on the right results all day long .
When I see them posted (on my monitor, refrigerator, desk), they remind me to keep working towards the goal that's written. And when I'm done, I peel the sticky note off. Do you know what that feels like? The feeling of achievement! I know it sounds simple, but it has been such a manifestation game changer for me.
4. SUCCESS ATTRACTION GOAL CARDS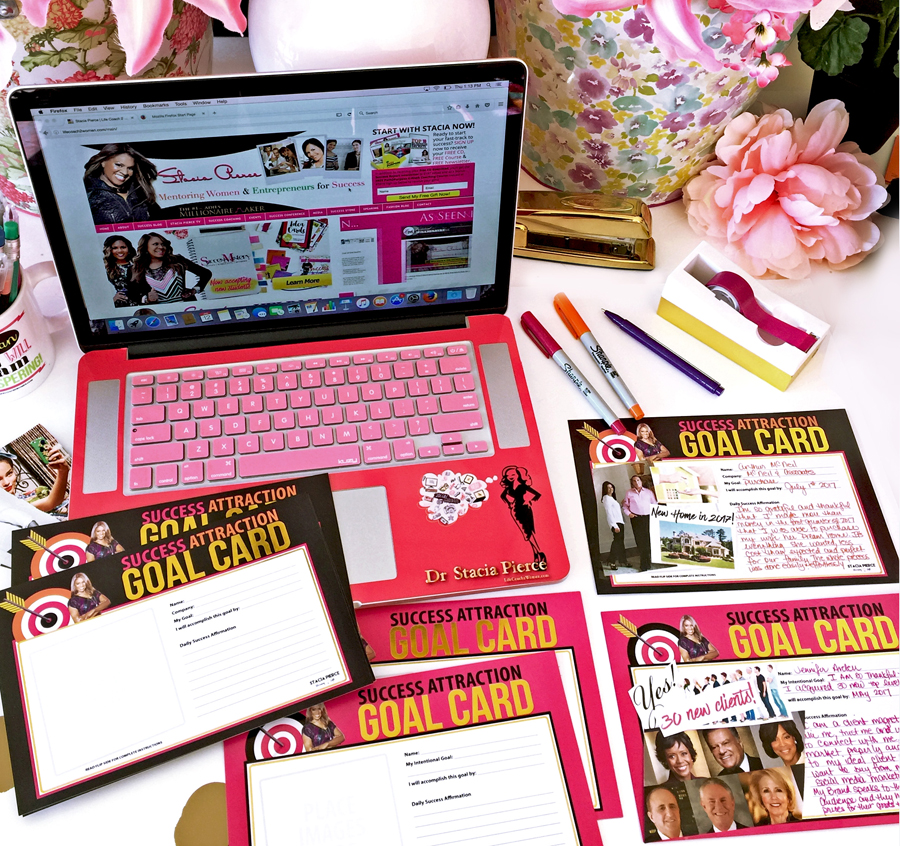 Of course, not every goal can be achieved within an 8-hour workday. That's why every time I'm ready to manifest a big goal or vision that may take some days or weeks, I use my Goal Cards. I love jotting down the specifics of what I'm believing for and pasting a picture of the vision to go with it. It causes me to keep my faith built and taking daily actions until I see the right results manifest, just as I want it.
5. SUCCESS PRINTS
A cornerstone to my manifestation has always been visualization and affirmation. It's how I turned my life around. I'm always affirming something powerful and positive about my success and outcome all throughout the day. Looking back, there were 4 specific affirmations that I used to get some of my most major breakthroughs. So I decided to frame and hang them in my kitchen, my office and in any room where I want my ideas and inspiration to flow freely.
Your environment is always speaking to you. Beautify your workspace so that you stay inspired throughout your day. Place inspiration around you, focus on your future, and never be ashamed to affirm your way out of where you are and into your dream destination.
6. SUCCESS NOTES
I've absolutely made it a daily practice to live by lists. So many reminders, to-do's that you may have forgotten about, or new priorities that require your attention can all come up as your day is progressing.
And if you've ever looked up and found yourself exhausted at the end of the day from pure busy-work, then let this practice be a help to you. This process of list writing has changed my life because the mere process of writing things down on paper in list form makes me feel instantly relieved. And frees up my brain space to be able to focus on what's most important without worry or anxiety.
Start living by lists. It will keep you focused. When your mind is clouded by looming responsibilities and worries, writing a simple list can help you clear your mind, organize those thoughts on paper and develop a plan to accomplish your goals.
7. SUCCESS KEY
If there has ever been a tool that I believe has caused my days to be full of favorable outcomes, it's been my Success Key. When I created my Women and Wealth Club it came to me to create something that would remind us that we have the key to wealth and the ability to create as much of it as we desire.
These are the keys that my team and I pray over before we mail them out to our Wealth Club members. When I wear it I always pray and declare that every single time I work on my business, desire a sale, do a deal or create a funnel, that I have the key to success and the answers to what people need. As a result, great things manifest for us every time. It's been a life changing secret and I wear it daily.
Now the secret is out! These are my top 7 tools that have helped my clients and I to keep high levels of expectation, energy and gratitude, while manifesting beyond the circumstances all year long! As I was noting all of this, I figured we should gather all these tools for you, so you could easily access them everyday. Sooo… The Ultimate Manifestation Box is on it's way! It contains my favorite tools I've used for manifestation (plus some HUGE and I mean HUGE bonuses) so that you can take control of your daily outcomes and become a money manifestation master. Get ready for breakthrough!
Text "MyMoneybox" at (407) 698-3769 to get on the waitlist for your Ultimate Success Box

Now let's Chat! Share with me below; what's your burning question about manifestation? Where do you need help? I love hearing your thoughts!