I really want to help you get the most out of your Success Journal experience, so I decided to show you inside my journal and how I use it to manifest all of my dreams and desires.
This year has already been one of big wins and great accomplishments. It all started with me first writing intentional goals inside my Success Journal. I created this journal as the ultimate manifestation tool. It includes every process and action step that I use every day when I'm focused on manifestation.
Some people have shared with me that they are little apprehensive about diving into their journals because it makes you think about what you really want. Don't be afraid! It's your book of authentic desires and dreams. It's the best (and fun) process of getting all those exciting adventures, big wants and bold ideas out of your head and on paper so that they can finally become a reality.
I'm opening up my journal and giving you a peek inside my daily process and hope that it will inspire you to embrace your dreams, focus on your desires and manifest what you really want.
At the beginning of each month:
Each month I start fresh with a new planner. This is something that I've done for years. Starting with a fresh blank book allows me to capture what really matters in 30 day increments. I like to give each month a theme. My theme is set by my word of the month. This word becomes my core intention to accomplish or focus on all month long.
Next, I write in my 101 goals. I usually just transfer all of my goals I have yet to achieve here and then fill in the blanks with new ones to get back to 101 each month. This process keeps me dreaming big and actively thinking about a great future, success and fulfillment.
Then I write in my monthly success story. I usually write in the most major things that I want to accomplish during the month. It's like my monthly "big picture". I always write in present or past tense, which creates a feeling that is aligned with already having experienced such great success.
At the beginning of each week:
I sit down every weekend to complete my weekly vision statement and vision board. Having a visual of what you want to accomplish in a week's time is very powerful. Just this act alone will help you become more intentional in your thinking and efforts. The more intentional you become, the more likely you are to draw what you want to you. I love color so I use stickers and markers to add splashes of color to my pages.
I also review my goals for the week and put them in the goals section, so that I can quickly reference what I want to happen during the week.
My daily routine:
At the beginning of the day I write a freestyle morning script of what I want to manifest in my life. I allow my pen to flow because often times I end up writing answers to questions that I wrote in my journal the night before. I always write in present or past tense to stay in a place where what I want is really happening for me. This is a technique to train your brain to do what you want. If you're writing in the future, then you'll stay in a state of wanting something to happen vs. writing in the present where it's currently happening or in the past where it has already happened for you.
Scripting is an important daily task that I do often. I sometimes script day and night.
I also record my dreams that I had at night. I write with vivid words to remember as many details as possible so that I can reference it later and determine the meaning of the dream.
I write my notes, ideas and plans for products as well. I'm currently writing the chapters for my upcoming book.
I use visuals as a point of reference and to activate my faith. I tape images, business cards or other items on specific note pages to keep me reminded of what I want to accomplish.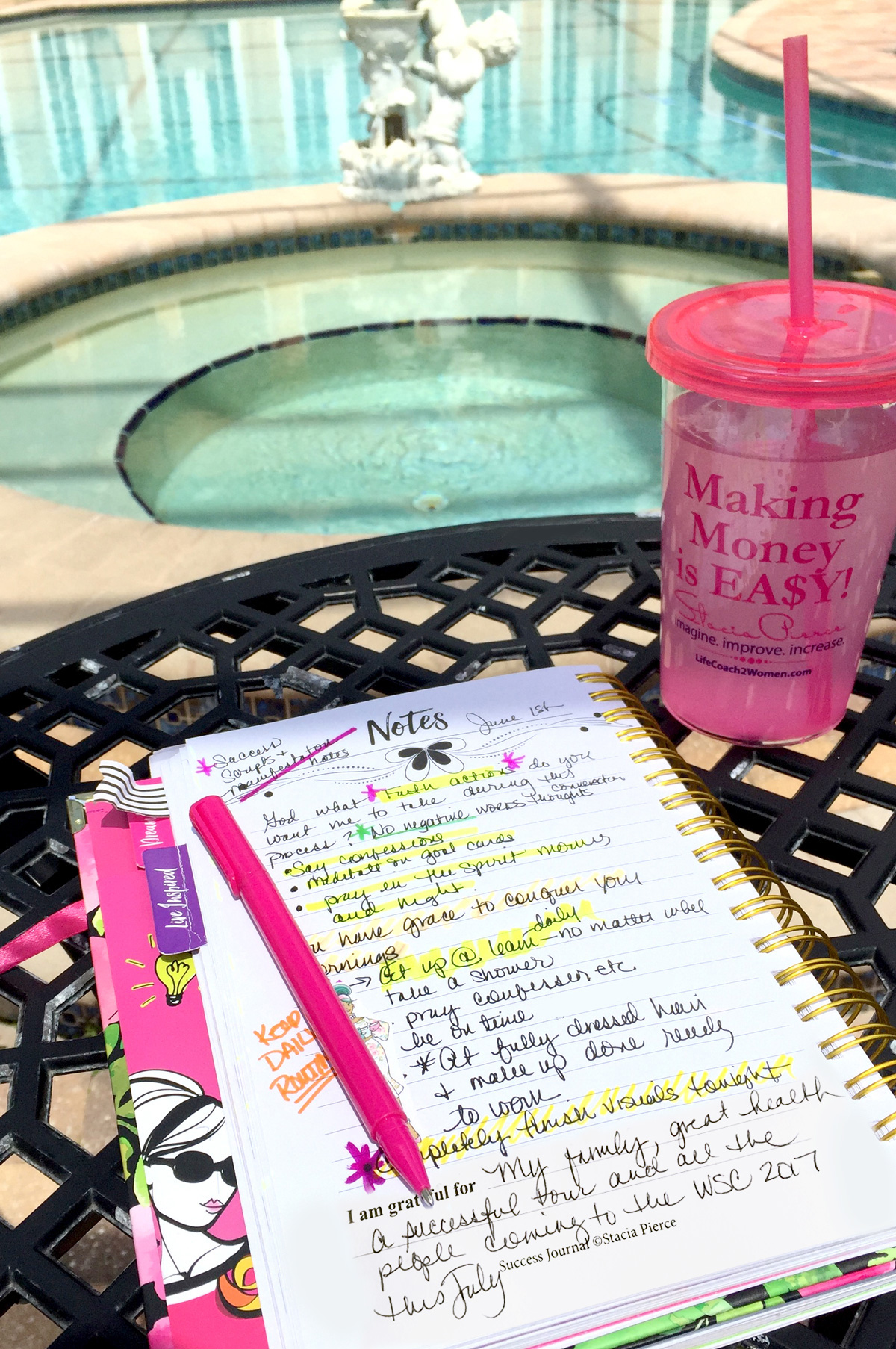 My night routine:
At the end of my day, I always take time to write a gratitude list of what I am most grateful for each day.
Lastly, I want to answer the most frequently asked question about The Success Journal: How do I stay consistent in journaling?
The key is to block out the time on the daily basis and commit to doing it at that time. For me, I write in the morning and every evening. I create my vision pages on Sundays when the house is quiet. This allows me the time to think of my week and plan ahead.
Using my Success Journal keeps me excited about my life and expecting a great future. It infuses my mindset and empowers me to really look forward to what's to come.
If you want to know more about how to maximize your Success Journal, then you should take my Journaling Workshop.