As we kick off this gratitude season, now is the perfect time to plan for what's to come by reviewing and setting your goals, writing your vision and meditating for this year.
Written goals stretch you. They guide you. They anchor you. They teach you. They fuel you with momentum. They are magnetic and they give you focus. Written goals are what take you from mundane-to-monumental. And they help you to achieve over and above the norm. 
So there isn't one fall season where I don't first sit and refresh my goals. I'll find some quiet space, I'll get my journal in hand and a stack of goal cards…and I sit and think and write out what I want my future to look like. Both in the next quarter and even bigger things over the rest of my life.
Just the simple act of writing out your goals automatically puts you in charge of your life. On the other hand, not writing your goals means becoming an unfortunate victim of the circumstances that happen around you daily.
Think of your written goals as the outline to your new life movie. Your goals list highlights all of the good that you want to experience. And in this post, I'm giving you an inside look into my goal setting process and how the simple act of writing your goals quickly takes you from goal to manifestation.
Here are my 5 tips to writing goals to take you from mundane to monumental.
1. Think BIG
The first step to writing goals that manifest is to think BIG, but think in categories. Writing goals this way will help you cover every aspect of your life and make the list feel more achievable.
Personal

Family/relationship goals

Business, work/career goals

Financial goals
Physical/health related goals
As you begin to write your goals be sure that at least five of them are optimum goals.. big goals that you really want to accomplish…even if they seem a bit too big or out of reach right now. Give yourself permission to dream big and write your hearts truest desires. You'll amaze yourself with how much you are able to achieve when you pen what's real and heartfelt. You will gain confidence, clarity and boost your creativity to accomplish your goals when you think big and write them in a journal.
2. Get specific
As you set your goals make sure that they are specific, clear and measurable so that you can track your progress and clearly visualize the outcome. Create monthly goals that you can actually achieve in a 30-day time frame.  Your goals should be big enough that they energize you and stretch your faith and belief, but small enough that you don't give up before you start.
3. Accelerate your goals with visuals
As you're working on accomplishing your goals, you'll want to have a clear picture that represents your goal so you can focus on it. My Success Attraction Goal Cards are perfect for this. One of the most important parts of achieving your goals is actually meditating on them daily. With your goal card, you can see your end result. The more you see it, the more you will work towards reaching it.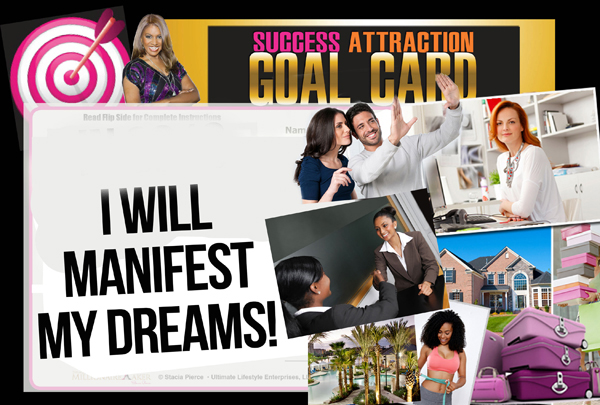 Keep these where you can see them as well to remind you that the process is working and that you are achieving your goals! Let them serve as a reminder that you know how to manifest your goals. It's an exciting way to rehearse your victories.
"See" yourself completing your goals and feeling the benefits and rewards of doing so. Make notes of the goals you visualized and any ideas that came to you during that time. Allow your goals to become your life blueprint and act as a magnet. When you're focusing on them you will start to create a gravitational pull towards your goal and your goals will start to be drawn towards you as well–and at exactly the right divine timing, in exactly the right divine place, you and your goal will meet!
4. Get focused
Oftentimes we can burnout and quit too soon because we are focusing on too many things at once. So focus your attention and allow your intuition to guide you in choosing what goals you should put your focus on in the moment. If you're having trouble with this, then just pick 2-3 goals and put them on Goal Cards and place the cards on your bathroom mirror, refrigerator or vision board so that you can focus on achieving them. You can't try to accomplish them all at once because that would be way too overwhelming. Choose your goals based upon what is nagging you. What goals keep coming up that haven't manifested yet? It may be time to put your attention there. When we direct our attention to just a few goals at a time, we can put serious thought and action around manifesting these desires.
5. Take fast action…consistently
I know this point seems like a no-brainer…but honestly many people expect to achieve a goal that is only in their head… but never acted on.. it's like waiting on a miracle to drop in your lap when in reality every miracle opportunity is passing you by. Other times we can become stagnant, waiting in limbo for instructions because we just aren't sure where to start.
This fall I decided to create something special that would take you through 4-live coaching sessions with me and Ariana in 30-days. It's My Big Money Manifestation Year Course. If you're serious about manifesting big money in under 30 days and want to coach with me personally, this is your course!
But it's important for you to get started right away and then trust your intuition to lead you step by step, even if you don't know what to do next. The answers will always come while you are in constant motion and constant pursuit. But nothing can happen for you without you making all of the first moves.
The goal itself will never fail you, however the lack of action will. To succeed you must commit to consistent execution. So just start with what you know to do. You may not have all the answers at first but once you take the first step, the resources and people you need to accomplish your goals will start appearing in your life.
Sitting quietly and writing your goals, puts you in tune with your intuition. It causes you to write down the things that are destined to be yours! I call this intuitive writing, because you're really writing down the divine plan for your life. What follows? Circumstances start aligning and opportunities start coming your way for you to take advantage of so that you walk right into that divine plan!
And if you really listen and really move when you're supposed to, then you'll walk right into your goals. You'll begin to notice so many things happening for you that you'll live a life of manifested goals over and over again. 
What is one of your big goals that you are focused on manifesting this year? I would love to hear about and cheer you on in the comments!