Have you ever wanted to attend an event, but was short on cash? Once you start adding up travel expenses, hotel, registration, food and fun plus investment money…the total can be a pretty penny right? Well, as business owners, we all know that when it's time to go to a new level, there's always a price to pay and attending an event that can change your business is no exception.
When I was first starting out, I wanted to attend a major conference with my husband. And we wanted to manifest the money to cover the expenses without touching our regular income. (We often create manifestation projects like this so that we could take our lives to the next level.) Well, it took us only about two weeks to manifest $5000 to attend that event. From that moment on, I knew that we had a system that would work anytime we needed it to. So, I wrote the system down in my journal and reviewed it every time I wanted to manifest money into my life.
I'm going to share with you exactly what we did with the expectation that you will use this information to get similar results in your own life. I've used these steps on more than one occasion, and it has always worked for me. I know that it will work for you as well!
1. Say YES! Decide you will go. It's the first step to manifestation.When you actually commit to going, then everything will begin working in your favor. Verbally tell someone that you are attending the event and then commit to going by blocking off the time in your calendar. Now, you can get ready to attract all that you desire!
2. Write 5 expectations that you want to experience at the event. Who do want to meet? Are you looking to gain a certain skill set? Want to join a program? Write down exactly what you want to happen during your time at the event. By taking the time to plan and really consider what will happen once you arrive, you commit yourself mentally to being there. This will only draw you closer to your end goal.
3. Next script it out. Imagine the entire event in your mind. Now write it out exactly how you see it. Be very descriptive. Write about the people you meet, the deals you made, the increase that came in, favor and opportunities that opened up. Think about your feelings…write about how the event made you feel. This action will put you right in the mindset of attending the event. Having written it out, you've injected yourself into that moment and now it has become even more real for you.
4. Now, count up the cost. Look up the price for everything you need. Here's a short list, but add to your list anything specific you'll need. Write out the price for everything. Warning: sometimes making this list can get you down. But you have to ignore the discouraging thoughts! It costs nothing to dream. Plus you need to know exactly what you need in order to manifest that amount. So only look at this as research for manifestation!
a. Gas/plane tickets
b. Food
c. Hotel
d. Event registration
e. Fun money
f. Investment for materials from the conference
5. Pack your bags! You want to set your intention to go to this event, and every step of the way matters. Plan your looks, book your hair and nail appointments. Get that suitcase ready to go!
Sorry, I am attending an event that weekend. I am not available.
6. Affirm your attendance at all costs. Distractions will come up. It's a normal part of the process. You may get an invite to speak at an event, or another awesome opportunity may come up. Sometimes something tragic happens. Don't get sidetracked! Just remember, these things happen all the time. You have a goal to meet so keep your commitment. Your reply to anyone who asks should be a directive.
7. Start paying for things as the money comes in. Don't just look for a windfall; the money may come in a little slower than that. Nevertheless that more you pay the more likely you are to finish and show up at the event.
One of my clients wanted to attend our event and didn't have all the money at the time. She first bought her ticket to the event for her and a friend. Then later, she sold items and raised enough money to purchase her hotel room. Finally, as the time neared for her to attend the event more and more money started to flow in for her. By the time of the event, she had every expense paid with extra money for investing in my coaching program.
The more skin you put into the game, the more serious you become about achieving your goals. So show yourself that you mean business and start paying for it little by little.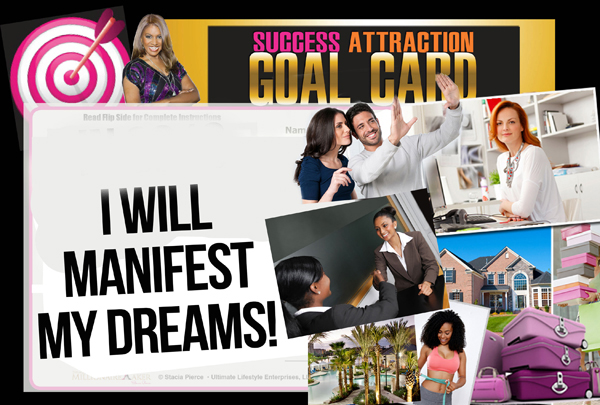 8. Create a Success Attraction Goal card for the trip. Be sure to follow all the instructions. Put your pictures on it and write the affirmation. Then put it where you can meditate on it often and envision yourself at the event.
9. Stay open to manifestation miracles. There are many ways that money can manifest for you. It can be given to you or you can have a sale. I encourage you to write a list of 40 ways you can manifest money. Keep going until you get to 40, this will get your mind going on how to generate the cash.
For instance, we had some clients who wanted to fly to Orlando to attend a conference and they had just had a baby and funds were tied up. They decided to write a list of ways to get the money. One of the ways that they wrote on the list was "checks in the mail" and in about a week there was a large check in the mail that covered their expenses plus more!
Keep your hopes high as you go through this process. When you take these steps you cement your intentions and accelerate manifestation in your life. I look forward to seeing you soon at one of our events. We are currently on the Prosperity Tour visiting several cities across America. Click here to learn more and grab your seat now!