Wealth Journaling, as I call it, is a practice that has helped me become unstoppable in manifesting major increase and in attaining my biggest goals. Every time I'm ready to manifest increase in my personal life or through my business, wealth journaling has saved the day. Even to this day, my entire family and I always travel with a journal to capture our ahas, our thoughts, and our goals so that we can script our way to all of our big money breakthroughs. 
Having studied the wealthiest families in the world and gaining a deep understanding of their lifestyles, I noticed many common threads between them all…but one thing that stood out for me, is that every one of those families used journals! They used them to script what their future would be like, what their victories would be like, what their kids would be like…. and I came to the final conclusion that if you don't use a journal, you're holding yourself back from wealth. 
I am now convinced that It's almost impossible to gain wealth without a journal in hand. Journaling is how you can write your way to riches and fast track your manifestation with a pen and paper if you know how to do it the right way. 
Journaling gives you clarity, light and instructions on your path and the fortitude to get it all done. Journaling is what helps you to enjoy life, smash your goals and walk in joy and victory every day. 
So if you are experiencing anything less than abundance it's time to shift your thinking and take action with manifestation methods that work. 
Here are 3 tips to help you write your way to wealth with a journal:
1. Script the goal…and declare the affirmation.
Whenever in wealth journaling mode, I start by getting specific about the financial outcome I want to manifest in my life and then I write it in my journal. I write about how I see if coming to me or how I want it to manifest into my hands.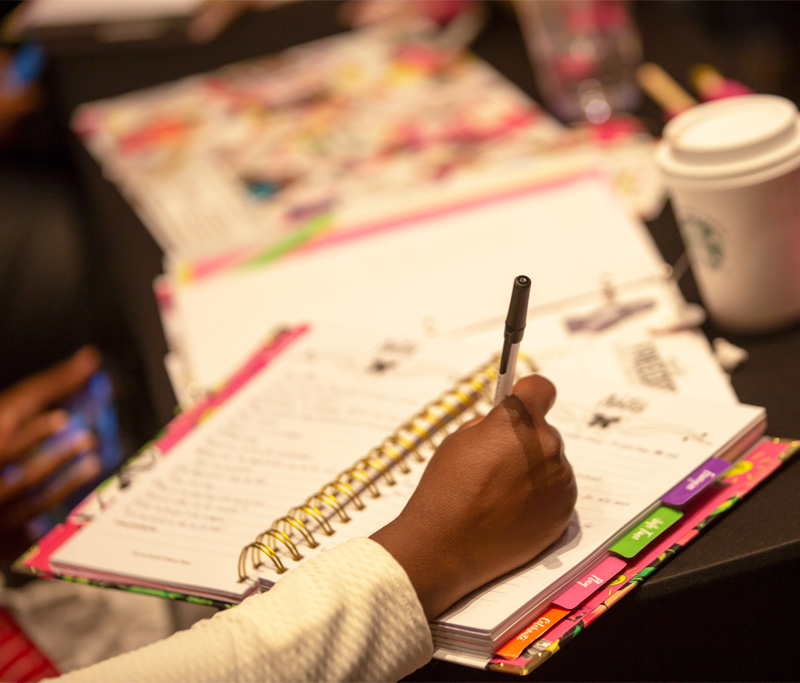 When wealth journaling, remember the more specific you are the better while you are scripting your desired outcome.
I always write in present or past tense to stay in a place where what I want is really happening for me. This is a technique to train your brain to do what you want. If you're writing in the future, then you'll stay in a state of wanting something to happen vs. writing in the present where it's currently happening or in the past where it has already happened for you.
for example: "I'm so grateful and thankful that I have attracted 5 new clients! They are a perfect fit and they paid me up front and in full! I'm so happy and grateful to serve them and be the right answer for them at the right time…"
Then, declare the affirmation:
When wealth journaling ALWAYS create an affirmation to compliment your specific request. Also, please remember there is no need to make it complicated. Affirmations can easily be made in list form (this is my fave). They can even be one sentence or paragraph!
For example, say you're scripting a specific request to manifest $75,000 in sales in the next 14 days. When creating your wealth affirmation you can pen something like:
"I AM grateful and thankful that I made $75,000 or something better within the next 30 days". 
Write the specifics of your goal. Say I AM with conviction. Also remember to always note and leave room for God to do something better than what you may have had in mind.
For example:
I Am a millionaire
I Am a $100,000 (or enter your preferred amount) monthly earner
I live a luxury life
Clients call me continuously
My phone rings all day for sales
I have million dollar sales
Whatever you end up writing keep in mind that the number one key to powerful affirmations is saying them consistently and with passion.
2. Ask God the right questions
When I'm wealth journaling to increase in my business or personal life, I ask God questions. I'll ask for insight and strategies. I'll ask God to show me doors, plans, products…and I'll specifically ask God: "Show me the next step. What do I need to do?"
Usually right before bed I review my goals, write my list of what I'm grateful for then think about all I've written while wealth journaling.
Then I ask God questions based on what I want to accomplish right now. I write the complete question in my Success Journal.
Which normally goes something like this: "How do I manifest $10,000 for my product packaging this week?" Then I write down everything I have and sense about it in my journal.
I capture every intuitive thought then make a "take action" list.
Make it a habit of asking God questions and watch the answers come!
3. See your wealth and you way to it
There's something special about writing, vocalizing and then visualizing your dreams and goals that just makes it call come together for you just right. It helps to solidify your plans and make them that much more real. 
One of the best compliments to your wealth scripting is taking time each day to visualize your desired outcome. When in manifestation mode for your finances it is very important to be able to visualize what you've scripted in your journal as if you already have it.
To attract more money and abundance, you have to visualize what you want to come about in your financial life!
Our inner images are directly impacting our actions and triggering certain outcomes in our life all the time. –Whether good or bad.
Here are some ideas: Make a vision board, create a Goal Card, use the visioning pages inside of your Success Journal. This way you can carry the vision with you and never lose sight of it. Constantly seeing a picture of it with the scripted affirmation alongside of it will help you manifest your goals faster!
To create a strong flow of wealth and abundance in your life you have to fight to align your thought pictures with what you really desire, not what you fear or don't want.
You have to literally see money coming to you. Starting tomorrow morning take 7 days and commit to visualizing your financial goal day and night.
I want to see you build a life of wealth and happiness, and wealth journaling is just the tip of the iceberg.  I've made it my mission to help women manifest wealth and well being in every area of their lives. If you want to come and sit with me, I will be showing you the way to wealth and helping put it in your hands on next weekend, October 29th at The Millionaire Wealth Accelerator. Click here to join us.
Ok now let's chat. Have you practiced wealth journaling?  Let me know where I can help you master this process. I love talking with you. Leave your comments or questions below.