Building a business is more than just products, marketing plans and spreadsheets. It is a deeply transformative process that requires work from the inside out. Successful business owners know that true achievement comes when you've learned proven principles with spiritual implications that bring about natural manifestation. This is how I built my business; using my intuition and taking inspired action with a spiritual emphasis. As a result I've experience a life of supernatural success. You can too if you follow these simple, yet highly effective foundational principles.
Affirmations
We create things with our mouth. Once I discovered the power of affirmations, I have relentlessly used them to accomplish my income goals, obtained lucrative contracts, make coveted connections and seal many deals.
We tend to speak about 12,000 to 25,000 words everyday…not to mention the conversations we're having in our heads. That's a lot of talking! Each of those thousands of words is setting things in motion – both inside you and in the world around you. Words take ideas and turn them into reality. They help you to fixate on a thought and cause you to act on it. When you intentionally speak toward your success, what you say will actually cause you to attain success. You can literally grow your business from level to level with your own words. In The Success Journal, I write "I Am…" statements to confess positive action sentences over my business and my life. I read my list every morning and it helps me to focus on my goal and coming up with new ideas to reach them. For example, "I am attracting new clients to my business daily."
I also speak to my money and cause it to multiply. I heard this statement before and it resonates with me so strong, "Money cannot talk, but it can hear. Call it to you and it will come." Affirmations for money, wealth and prosperity are used to train your mind to focus on the positive so that you can generate positive results.
Planning on Paper
The act of writing has very strong spiritual implications. What's written is real. You can change your life and future by using pen and paper to script your desired outcome. As an avid journal writer, I have witnessed several times where I've manifested exactly what I have written in my journal. From winning business deals to acquiring my dream home, I've written it all in my journal first.
Students in my 37 Journaling Secrets Course have also manifested big results from the act of journaling. One student manifested 3 new laptops after writing down that she wanted to purchase a new one. Another acquired her dream home and opened a second location after writing exactly what she wanted in her journal.
Journaling also gives you more clarity for your business. Writing about your business vision and goals will help to solidify and crystallize these ideas that start out as abstract thoughts. As you perfect your journaling skills, your focus will become laser–sharp. You'll jump on opportunities that are right for your business, and won't waste time with those that aren't. You'll have a heightened confidence in yourself and your business's prospects because you'll have an unshakeable understanding of exactly what your business is about.
I use my Success Journal to script my life and plan my business goals.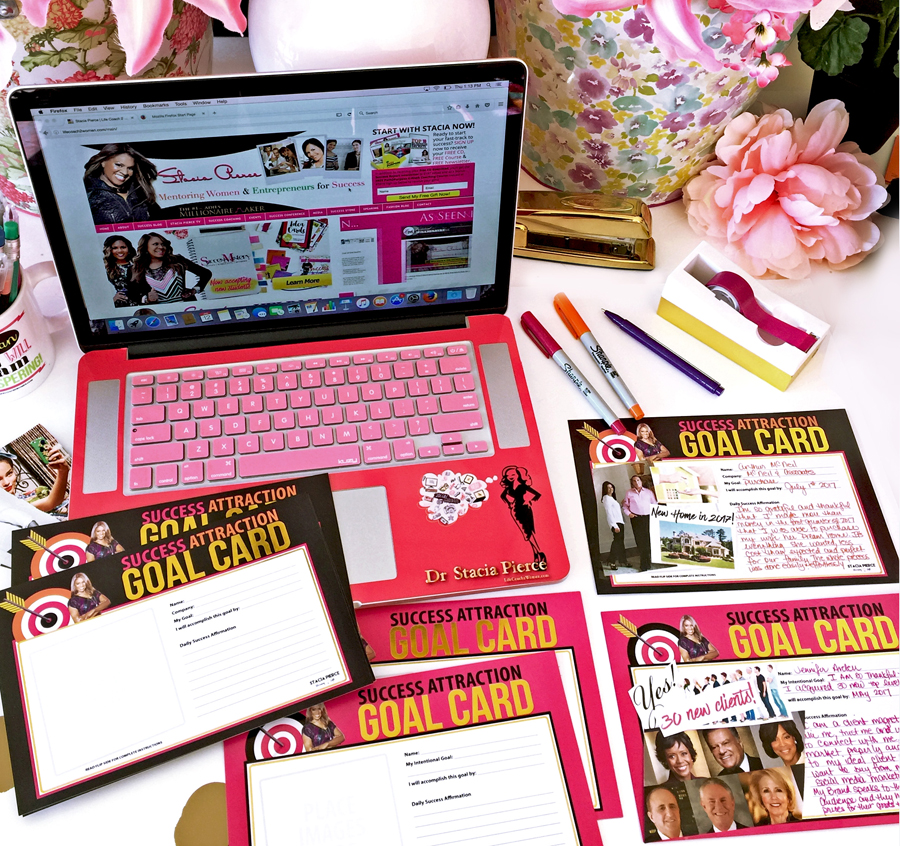 Prayer and Meditation
The most important part of my day is the morning hours. I awake early to pray over my life and business and meditate on my vision and plans. I usually do this in my adjoining office (pictured above). Meditation keeps me centered and calm. I focus on my breathing, taking slow deep breaths until I clear my mind.
Once my mind is clear I turn my thoughts to my daily goals. I think about my day and my big picture, allowing new ideas and inclinations to flow freely so that I am aware and acknowledging the thoughts. This activity increases my creativity and helps me to develop a master plan to get more done in a day. I find it useful to think about everything I want to get done, create a prioritized list and make adjustments in this quiet moment before I actually start my day.
Insight comes early; if you sit quietly in the morning and meditate and then listen within, you will discover brilliant ideas are ready to burst out of you. You have to find your very own sweet spot where you can get quiet, relax and think big thoughts. Allow your mind to expand and see yourself productive, profitable and progressing toward your goals. This is one of the main techniques I teach to my clients because meditation helps you to transform your thinking and improve your life overall…when you are meditating on the right things!
During this time I usually am focusing on my Goal Cards and saying my affirmations as well. I use my goal cards to focus on one goal until it is accomplished. With the cards, you can write your objective, add a representative photo and write positive affirmations so that you have a good visual to meditate on. It's even smaller than a vision board so you can carry it around with you to meditate on throughout your day. In my life I've seen dramatic results from using my goal cards.
So have my clients. They have used goal cards to manifest new businesses, national media recognitions and hundreds of thousands of dollars—just to name a few victories.
Embracing the rejuvenating healing attributes of mother nature.
Okay, you maybe thing how does this fit supernatural success. Just follow me here…I broke my foot almost two years ago and my daughter suggested that I look into natural healing methods to speed up the process. Not only did I find a natural remedy that healed my foot quickly, it also saved my life! By using natural plants, organic juicing and essential oils I have improved my health and everyday well-being. As business owners, you're no good to the business or your own life if you're always sick, lacking energy to accomplish your goals. I revitalized my life and now I feel better than I did even 20 years ago by implementing organic products in my home.
I use the Honest household cleaning products to clean my kitchen and bathroom.
I use Seventh Generation detergent and dryer sheets on my clothes—which eliminated skin irritations.
I shop at Trader Joe's and Whole Foods for organic meets and produce to reduce the amount of toxin intake.
I also add fresh flowers all over my home weekly.
I LOVE essential oils! I use pumpkin oil mixed with peppermint oil to increase hair growth; lavender oil for breathing and to calm me just add a little to the temple before sleeping and you'll sleep soundly.
All of these small actions has made a big difference in my health, stamina and overall well-being.
Counting Blessings Daily
An attitude of Gratitude changes everything. Every day, I take time to write a morning gratitude list and another one each evening. We all have so much to be grateful for. You may be at the top of your game right now and everything is going well—or you may be in the daily grind of building your business, whatever your state of being. You have so many things to be grateful for.
For example, be grateful to be alive and well so that you can pursue your dreams and make an impact in the world. Be grateful for your family, friends and other important relationships. Be grateful for new opportunities, insight and ideas that come to you daily. I am grateful to have a platform to empower business owners. I am grateful for the ability to bring my ideas to fruition, creating success tools and products that not only help me but change the lives of so many other people.
I am grateful to be in business with my daughter-we make a great team.
These are just a few things that I am grateful for…but my list gets longer and longer the more that I am in a grateful state.
The more grateful you are, the more you'll focus on your blessings and more blessings will come to you.
Gratitude is the process of mental adjustment and attunement. When you have problems in your life that dominate your thinking, it is natural to focus on the problem. By doing so, you magnify the problem and make it grow bigger. Don't do this! See what you want. Don't give time and energy to focusing on what you don't want.
Writing a gratitude list will empower an attitude adjustment and shift your focus to all the good in your life so that you can bring about more good into your life.
Start by creating a list of 10 things you are grateful for each morning…write them in your journal. When you are done, send love to three people that are bothering you. Turn the initial negative feelings into love and happiness and think good thoughts about the problem or person to keep yourself in tune with happiness and gratitude. Then be quiet for five minutes and ask for guidance for the day.
You will find that this practice will change your life!
These are my very effective, unconventional ways of achieving my goals and building a successful business. You won't find this stuff in a business class, but I promise it will take you a lot further than using conventional wisdom alone.
to have supernatural manifestation in your life, you need to implement the above keys consistently. This is where most people fall short. They do it for a week or so and then give up.

if your struggling with being consistent with your manifestation actions and you want to learn how to master these techniques once and for all…
Meet me in person at the
If you're serious about success in your business and life, I encourage you to pick a couple of these steps and implement them into your life and business. If you're already doing them, please share in the comments below.