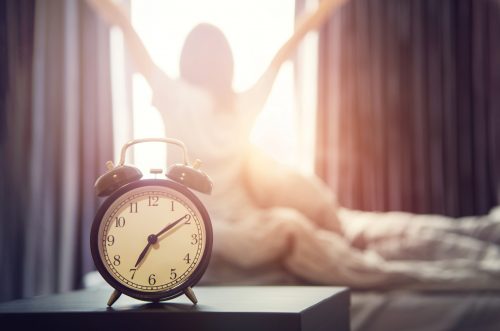 I can remember years ago, waking up in the morning without a plan and allowing my day to just take me wherever it wanted to take me, whether good or bad.. without direction or an outline and things were beginning to get really stressful, chaotic and completely out of control. Can you relate?
I felt like time was getting away from me and that I didn't even have the time to implement the prosperity systems I had in hand.
But then I discovered that I could command my mornings, regain control over my day and determine my own outcome. But if I was going to do that, I  knew I needed to have a plan, I needed to have tools in place and I needed all of it to be on paper.
Because when you pen your plans on paper, you can visualize what you're writing. And what you write has a way of anchoring your dreams, your goals, your expectations, and you tend to get exactly what you expect.
So I began to reimagine and reengineer how I do my mornings and I began to 10X my manifestations.
Here's an inside look into my morning routine plus 3 ways to set up your day for success. I encourage you to try some or all of it and see if it enhances your day as well!
1. Make your morning routine nonnegotiable.
Life gets so much easier when you adopt a morning routine because how you rise determines your day. What kind of mood do you want to be in when you wake up? Set your morning routine around how you want to feel. Mine revolves around spirituality, luxury and refreshing so that I can feel energetic, excited and alive. I want to feel like that every day in my life because I want to manifest that every day.
Every morning I wake up here is what happens before my feet hit the floor:
I sit up and take in a big stretch and I smile! It sets the atmosphere. It tells me that I'm happy with myself and with this day. And then with all of the enthusiasm and excitement I say: "TODAY is going to be a great day!

I go for a quick bio break.
I return to my bed for 15-minutes of still meditation. Stillness in the morning gives you confidence. It trains your mind to hear your intuition and get answers and that comes through quiet. I begin to give thanks for my past achievements, for my family, my staff and then for me. I give thanks for my future goals and then center my focus around something I want to manifest in my present reality. I really try to just think on only one or two things max (so my vision doesn't become cluttered) and envision it as if it was already done. Your meditation time can also be done in the shower, while exercising or even on a walk.
I then do a few minutes of deep breathing to calm my body and my mind.
I'll then head to the shower and play something inspirational (while I'm in the shower). It's my time to rejuvenate and restore my body and I'll do my affirmations.
And then I'll check those items off of my list once I'm done.
I'm a person that needs to have accountability and tools in my life for things to work for me. I needed to see things checked off and see progress. One of those tools that has sped up my productivity the fastest is the My Successful Day Notepad.
It's my daily master plan. It's the one simple tool that has a step by step routine to make sure I stay progressing and in full manifestation mode. And I create and carry a new one with me every day. 
It has a placing and checked boxes for each of my daily rituals and routines on it for (which includes 90% of what successful people say they do daily in their lives). And when I stay in check with these routines, life returns to me what I want.
At the end of the week, I'll go back and add them up and see what I missed and where I am jamming!
Sometimes, if I'm having difficulty getting clarity on the direction to go in on a project, I can look back and see where I may have missed a few days of meditation.. or if I'm feeling dehydrated I can see where I forgot to check off "my water intake" on the sheet, and immediately I know where to go back and self correct.
After my meditation time, I'll think through my day and ask… What are my desires, goals and dreams? What do I want to focus on accomplishing right now? And using the "Top 3 Intentional Tasks" space on the pad, I'll write down the three major things that I want to get done in my business for the next day no matter what. These are the main things that must be accomplished.. along with my to-do's list beneath which lead me to getting my main intentions done.
It's so important to plan your productivity. This guarantees that I am taking care of myself, my mind, my body, my spirit and also being super productive all day.
This past year, even while teens were stuck at home and feeling stagnant in their learning, many of my top clients got their teenagers my Teen's Success Notepad which helped them to track their days, become student leaders and achieve more than their classmates.
2. Make gratitude a daily habit.
Staying in a place of gratitude fuels your entire day and keeps you fulfilled. It really is a superpower. So keep track of your blessings, your breakthroughs and your achievements. Write them down. Express gratitude every time you think of them. This will cause you to be intentionally grateful and in a place of manifesting more good things to be grateful for.
I believe that expressing gratitude is the number one key to living a fulfilled life and attracting new levels of wealth. It helps you to eliminate negativity and toxic thinking so that you can generate better ideas, more income and attract your dream day!
Wealthy, happy people have mastered the art of being grateful for what they have while they are on their way to where they want to be because it leads to continued success in their lives and businesses.
So I make sure I write down what I am grateful and say it aloud in the morning, at night, and all throughout the day no matter what! It's an instant refuel to my day. And I'm sure to write it in the intentional gratitude space at the bottom of my notepad.
3. Power up your expectation
A lot of times we can wake up feeling defeated because of our mindset, unfinished business from the day before or no clue how to tackle the pending tasks of the day. If you've been waking up feeling defeated and tempted to retreat to hiding under the covers, then at some point, you have to wake up and speak back saying: "this is MY DAY to conquer and win!".
You have to expect a good day, a good outcome and you have to DECLARE it boldly! So that needs to be a part of your morning routine. If you are an entrepreneur or an employee, wake up expecting people to say YES to your offer! Wake up expecting to sell something today. Wake up expecting people to want what you have to sell. Wake up expecting that it is going to be a good day..that you are going to meet your quota..and be a top performer in your position.
Expect to get emails that will transform your life. Something that you've been believing for. Wake up expecting to complete your to-do's list. Wake up expecting that you CAN do it and push back against defeat.
Let's face it, you don't want your life to just drift along. And if you don't change this part of your life, you can have a million-dollar system in your hands, and it will be hard for you to implement and manifest from it if you're waking up wrong and your days are going wrong.
I know you want to manifest 10X more. I know you want change. And that comes down to how I wake up. You really do set the tone, the mood and the atmosphere for your home and your day, and it starts with how you wake up.
I want you to start waking up excited about what's going to happen for you. And when you wake up knowing that you're stepping into manifestation, you'll become more excited about your mornings!
Now I want to hear back from you in the comments. What morning routine are you going to do starting tomorrow to makeover your mornings? What are you doing that's already working well? I'd love to hear about it!