Have you ever wondered how some people accomplish so much in life? It's most likely because they have written their goals down in a journal. Studies show that people who write their goals are 90% more likely to achieve them.
My personal secret to achieving massive success is writing 101 goals to accomplish in a year. Yes. Every year I write a list of 101 goals to accomplish.  As the year goes on I cross some off and add new ones.
I want you to join me now as we are wrapping up this year and going into the next. You should stretch yourself and write 101 goals because the more goals you write, the more likely you are to accomplish your dreams. Why stop at 10 measly goals when you can do so much more!
When you look at your life in the grand scheme of things, there are endless possibilities for what you can do, be and have. So instead of limiting yourself, DREAM BIGGER. Consider your truest desires whether small or great. Then, acknowledge and embrace what you want.
You can alter your life by writing out the good that you wish to experience.
The simple act of writing out your 101 goals will put you in charge of your life. On the other hand, if you don't write goals—if you're not writing definite ideas and plans for your life, you will become an unfortunate victim of the circumstances that happen around you daily.
You decide would you rather make life happen for you or let life happen to you?
I have chosen to make life happen and you should too!
Writing 101 goals is such a significant part of my success regimen that I include it in the Success Journal. In the beginning pages of the book, you will find space to write in your 101 goals. I have found that writing my goals often enable me to express my desires constructively and draw what I want to me easily and quickly.
Did you know that your mind is like a beacon that is constantly sending out signals from your thoughts and ideas to bring what you are thinking about into your life? Imagine your brain as the movie projector and your life as the screen on which that movie is being shown. If you want to change your life, you have to change your thoughts. One of the ways to change your thoughts is by writing a new script.
Think of  your 101 goals as the outline to your new life movie. Your goals list contains all the highlights of the good that you want to experience.
Recently I had a few clients ask me for tips on how to complete a 101 goals list. So, in this post, I give you the inside track to my goal setting process. I'm going to walk you through what I do from idea to manifestation.
This information is very valuable. I suggest that you print it out or bookmark it so that you can reference it often.
1. Break it down into categories. The first step to writing 101 goals is to write your list in categories. Writing goals this way will help you cover every aspect of your life. Here's the list of categories that I use. This list is not exhaustive but it should give you some ideas of where to start with your own categories.
• Personal and social goals
• Business, work/career goals
• Family goals
• Financial goals
• Mind/intellectual goals
• Physical/health related goals
• Travel goals
• What do you want to do, be and have (write the answer as goals)
• House and home goals
• Recognition goals (what do you want to be recognized for)
• People you want to meet
2. Write your goals often. I use a new Success Journal each month and I always start by writing my goals. I usually just transfer them into the new journal. Each month the list changes as I achieve goals and add new ones. This process helps me to keep my goals at the top of my mind and helps me manifest them quickly.
3. Think about your goals often. When you get definite about accomplishing your goals, you have to think about them often. Take time daily to read your goals list out loud and think about what it would be like to have accomplished this goal.
You can also create a goal card for all 101 goals and keep them in decks according to their category. Store them on your night stand and review them daily. Alternate meditating on different categories or put them all together and shuffle the deck to randomly meditate on your goals. Having all of your goals on cards will keep them at the forefront of your mind and inspire you to achieve them quickly.
Create a poster of your 101 goals list, laminate it and then use a dry erase marker to tick off goals as you accomplish them.
Take a photo of your goals list to keep on your phone as a screensaver.
All of these methods will help you recognize when you're reaching your goals and see your own momentum over time.
4. Keep a faith file of information pertaining your goals. Collect magazine clippings, articles and photos that pertain to your goals in an expandable file. I take out this file about once a month and just review what I've been collecting. Usually they spark something in me to go do something that brings me closer to my life goals.
Years ago, I had a goal to custom decorate my home and office space. I set the goals years before it ever happened. But leading up to that moment I was collecting wall paper samples, paint colors, articles on decorating, artists who would create custom art for me, carpet samples, etc. I also collected contractors and other company information of people I dreamed of working with one day. I had no money to afford all of these people and things at that time but I drew this goal to me every time I collected something new. A few years later my opportunity had presented itself and I worked with one of the nation's top interior designers. I pulled out my files and shared my dreams with her. With her help, I got the exact luxurious wallpaper I wanted, the exact carpet I had filed away and the pink sofa on my dream list (just to name a few). I manifest all that I wanted because of my folder of information.
5. Record your goals and play them daily. I created a daily affirmation of my goals to play every morning while I get dressed. I start the recording with a quick declaration about how my goals are manifested into my reality. Then, I read each one in the present tense, starting each sentence with "I am…" and I always end the affirmation by saying. "Thank you God for this or something better has already manifested in my life."
For example, I say… "I am a best-selling author on the NY Times best sellers list."
I recently just had to rerecord my goals affirmation because I actually accomplished 90% of the goals on the audio.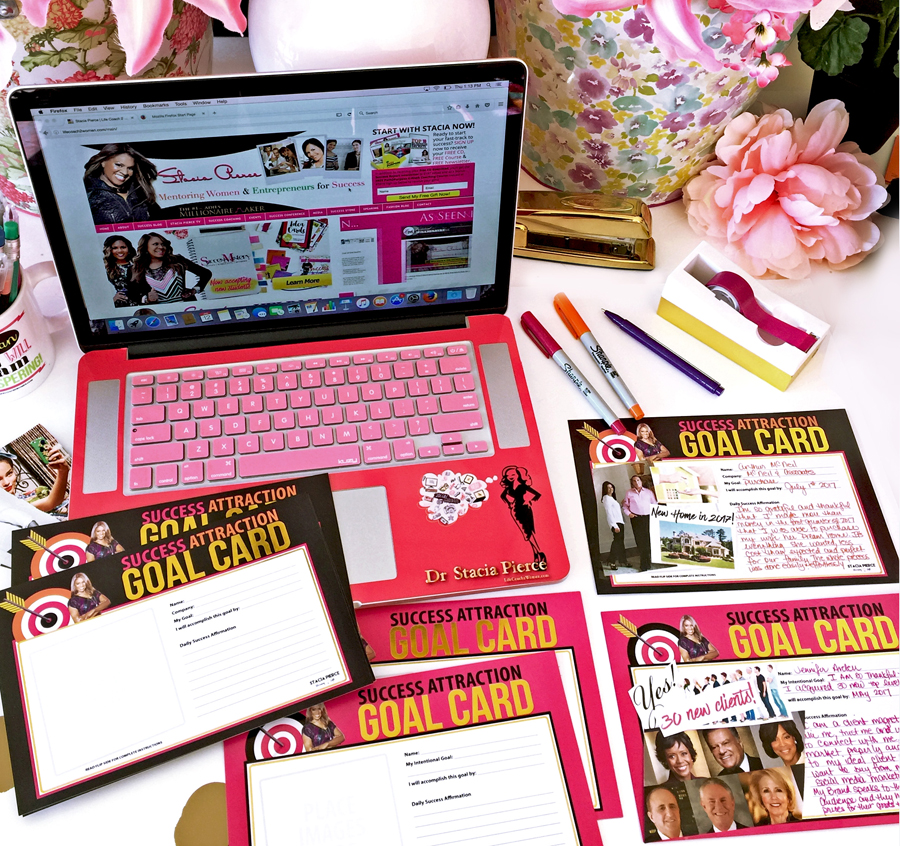 6. Choose only a few goals to focus on at a time. Let your intuition guide you in choosing what goals you should put your focus on in the moment. If you can't hear your intuition then, just pick 2-3 goals and put them on Goal Cards and place the cards on your bathroom mirror, refrigerator or vision board so that you can focus on achieving them. You can't try to accomplish them all at once because that would be way too overwhelming. Choose your goals based upon what is nagging you. What goals keep coming up that haven't manifested yet? It may be time to put your attention there. When we direct our attention to just a few goals at a time, we can put serious thought and action around manifesting these desires.
As you accomplish your goals, write on the Goal Card, "Manifested by (specific date)," keep these where you can see them as well to remind you that the process is working and that you are achieving your goals! Let them serve as a reminder that you know how to manifest your goals. It's an exciting way to rehearse your victories.
7. For accelerated manifestation of urgent goals, script your goal in your journal. Sometimes I have very time sensitive goals that I need a quick turnaround to. I usually write out a success script of this goal in my journal every single day until it manifest. My script is a detailed description of what I want to happen and how I want it to happen. Writing it daily keeps me focused and confident about my intended results.
One of my clients used the scripting methods to manifest a new home in only a couple of weeks. She was under a pressing deadline to move and the time was fast approaching. She wrote daily in her journal a list of things she wanted in her new home, how she wanted the transaction to take place and when it would happen. By the time she closed on the home, she said everything had happened just the way she had written it in her journal.
So there you have it, all of my goal manifestation secrets! As you can see there's more to manifesting goals than just writing a list. You have to have the right emotions, energy and focus on goal achievement in order to get them to come to pass in your life. If you've been carrying your goals over from year to year with no results then maybe you should take some time to meditate on them. Build your confidence around your goals and do the extra things that pushes you closer to goal achievement.
To sum it all up. You need the proper research, resources and reverence concerning your goals in order to manifest your goals.
If you apply these techniques to your 101 goals, you'll manifest more and always be excited about creating a jumbo goals list. You'll be most happy, joyful and mindful in life when you actually write down what you want to be, do and have. Statistics show that people who write down their goals are most likely to accomplish them. I am a real advocate of living life based upon your goals.
Writing the 101 goals list has brought so much clarity, joy and excitement to my clients' lives because now they are actually living out their dreams. They are making life happen the way that they want.
So…what are you waiting on? Write your 101 goals list today!
Grab your new limited edition Success Journal to keep your goals list in.