A bucket list, or life goals list is the list of things you want to be, do and have over the course of your life. We all keep track of these things, even if it is just in your head.
While I've always had a goals list, a few years ago I decided to create the ultimate dream goals list (my bucket list). I put all of my supersized goals that I had no idea how they would happen on the list.
This list included becoming a best-selling author, being nationally recognized in a magazine for my expertise. I accomplished both of these big goals within months of adding them to my list.
Ever since I created this big goals list, things have come to me in the most exciting, unexpected and miraculous ways. I am ready when the moment arrives because I have my list.
I think everyone should have an ultimate dream list. Here's why:
It will give you hope and motivation to achieve your goals.
It will give you something to look forward to as you reach milestones in your
life.
It will inspire you to LIVE your life, not just exist day to day trying to make ends meet.
What are your big dreams? Whether you want to travel the world, build a 7-figure business, impact your community in a great way, become famous or go viral, you're more likely to manifest it when you put it down on paper.
I dedicated a Success Journal to my bucket list goals. In this journal,  I used the 101 goals section to write out all of my goals.
You can write your goals list many ways. I found it easy to break it down in to categories and write 10 goals at a time.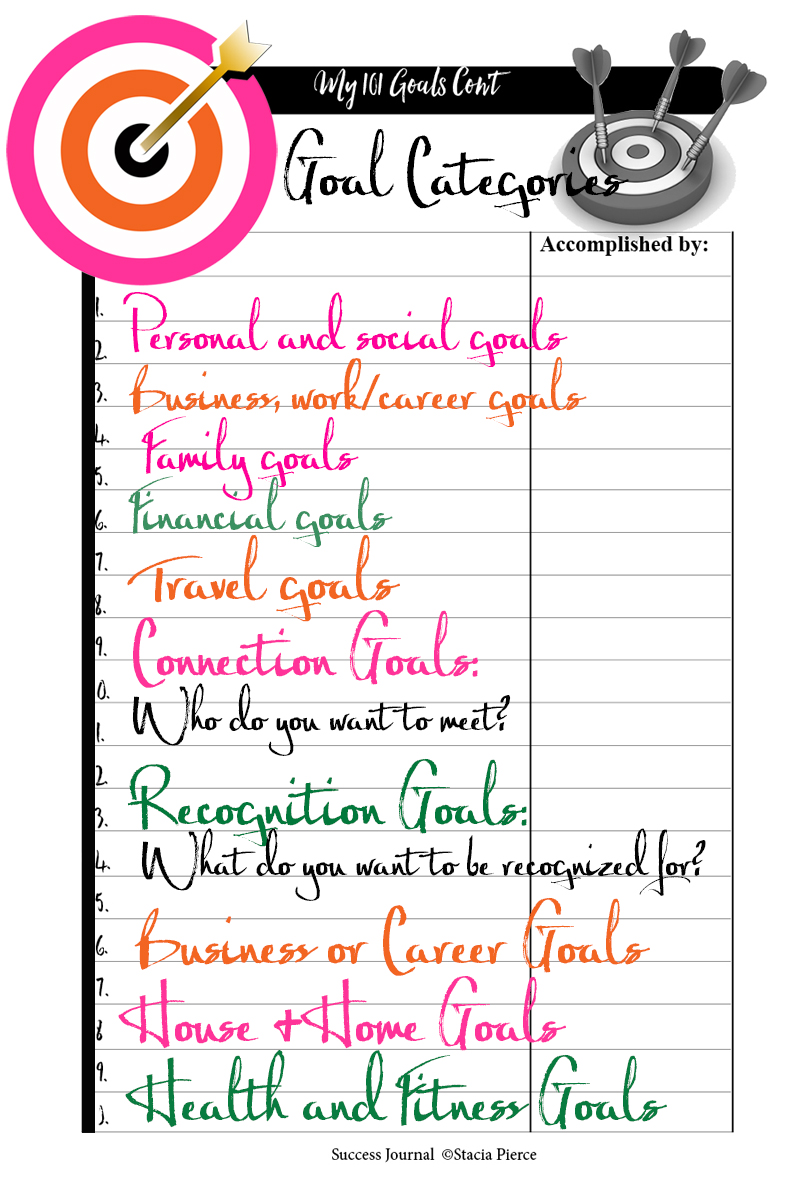 `
Here's an outline to write your own:
Lifelong list
What do you want to be?
What do you want to do?
What do you want to have?
Decades List
Things to accomplish by a certain age. As I was preparing for my 50th birthday party, I reflected on 50 milestones that happened over the years. In that moment, I was inspired to write a list of goals to accomplish over the next 10 years.
Seasonal List
Do you have some goals that can only be accomplished during certain seasons? Put them here and plan to get it done.
Travel Goals
We travel a lot as a family, and yet there is still so many places I want to experience on my travel goals list. I've found so much inspiration for dream destinations from reading two books in particular: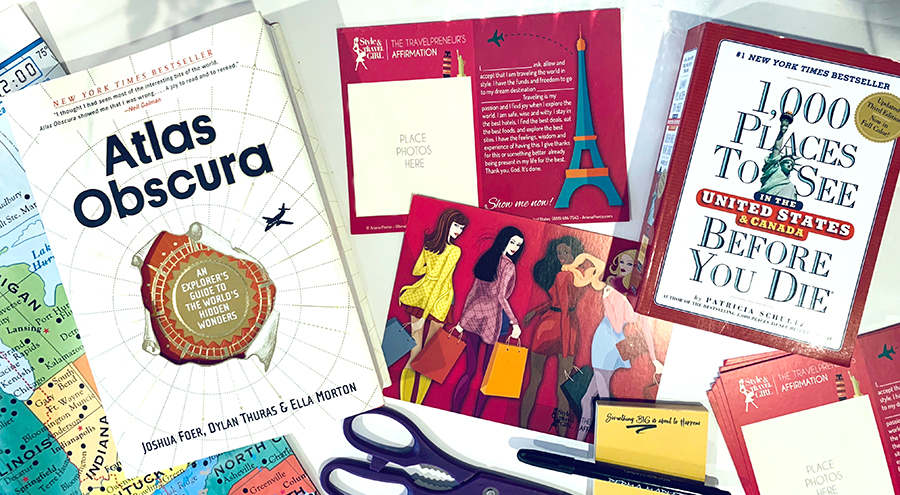 Atlas Obscura and 1000 Places To See Before You Die
These books will truly spark your curiosity to see the world.
A Local Bucket List
Do you live in a big city and haven't gotten around to seeing what your own area has to offer? Create a list of places to see and things to do in your own town.
Other areas to consider are:
Health and Wellness
Self-improvement goals (learn a new skill)
Family goals
Once you start writing your ultimate dream list of goals, you will immediately broaden your mind and be inspired by the possibilities that lie ahead.
Believe that you can accomplish your goals and you will. Pyschologists agree that we influence people and events by having great desires and great goals. You will find that everything and everybody will start to tune in subconciously on our big goals and start helping us to achieve them.
To accelerate achievement, create goal cards and carry them with you. Whenever you have a few minutes, take them out and meditate on them. Say your affirmation, see yourself achieving the goal. Before you know it, you'll be in the actual moment!
I also encourage you to create an affirmation to confirm your bucket list. Speak good faith-filled words over your dreams.
For example, say:
"I desire the highest and best in life and I now attract the highest and best to me!"
Say it every day and draw your dreams to you!
I want to hear from you. Share one of your bucket list goals in the comments: