Now that we're in the last quarter of the year, I begin to think about how the last quarter is often the strongest quarter—when you tap into your greatness.
Regardless of how the first 3 quarters of your year were, know that you can rise up right now and finish with a bang! I often say that miracles happen in the 4th quarter.
But the question is, are YOU positioned for big wins? Are you really ready for a breakthrough? Do you know exactly what to do in our fast paced, ever changing worlds of finance and technology?
No matter the challenges you faced down this year, I want to show you how to manifest more than you ever dreamed possible in your life and business in LESS TIME than you've ever thought possible, in the home stretch of 2021. This is the season where anything is possible for you.
This is the season where your bank account can increase beyond what you can spend, if you do the right things.
You can literally be living in the most incredible 3 months you've ever experienced in your business and live the life that others only dream of when you employ these three time tested secrets:
1. POSITIVE AFFIRMATIONS
There is incredible power in your words. I discovered the power of positive affirmations at the age of 13, and have been using them ever since. I've reached income goals, obtained lucrative contracts, made coveted connections and sealed many deals using this practice. Write your affirmations down so that you have your own script for success that you can say out loud daily. The key to making your written affirmations work for you is to say them EVERY DAY. I say mine in the morning, after (or as part of) my meditation time. You may not see immediate results, but over time you will begin to see that you have what you say.
Remember, just like your intentions, write them in a positive tone and in present tense. To affirm increase in your life each morning you could say, "I am manifesting all of the money I need to do everything I want when I want to do it."
Another practice that I do often, and encourage my clients to do as well; is practice in Success Talk. If you want to add some fire to your manifestation process, this is a great thing to do. Get a trusted purpose partner and set a time once a week to chat about your goals—as if they already happened, so your conversation would sound something like this:
"Wasn't it awesome how you sold out of all your books at your online book launch?"
"We had the best time attending your housewarming! Your brand new home is absolutely gorgeous! It's just what you wanted!"
"Tell me all about your brand new promotion! That's so exciting that you met with your employer and they gave you everything you asked for!"
My daughter Ariana loves doing this and enjoys the results even more. At first, you may feel a bit silly, but if practiced correctly and consistently, you'll feel empowered, hopeful, and embody a sense of expectation that will demand results.
2. VISUALIZATION
By now I'm sure that you've heard of visualization in some form. One thing I have learned on my road to success…building a fortune and living a fulfilling life… is that it's not enough to know that the power of visualization exists. You must understand the process and know how to put it to action in your own life. Here is my simple proven way to put this principle to work.
When you have a business goal you are trying to reach, you must first see it in your mind's eye. Your mind will rise no higher than the pictures you focus on or as I've put it, "Your mind will move in the direction of your most dominant thoughts." I believe you have to see it and believe it before you manifest it.
Spend time in the morning meditating on how you want the outcome to be. Dream big, ponder questions, and write down the answers that come during your meditation time. Another way to aid your meditation time is to use focus props: create a vision board or Goal Card and keep it near your bed, so it's the first thing you see before going to sleep and when waking up in the morning.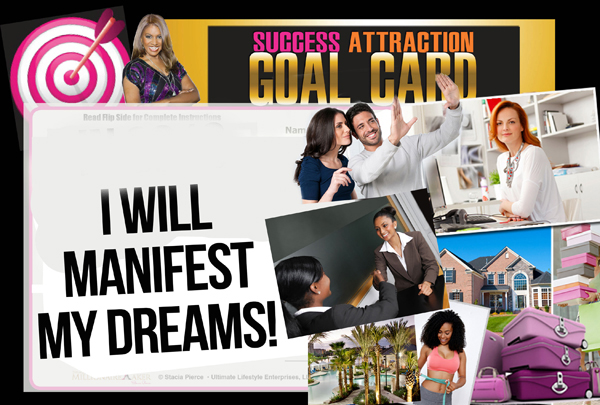 You can even paste a photo on the ceiling that you meditate on at night before you go to sleep. These success props will keep you focused on very specific goals. I created my Success Attraction Goal Cards to aid you in this meditation process!
3. FAST ACTION
It should go without saying, nothing I've mentioned this far matters or will produce your desired results if you don't take action—fast action. I've seen people get stuck in life and business by pairing big dreams with bare-minimum effort. On the other hand, when you learn the tremendous power of taking fast action…acting NOW instead of later…you'll begin to see more opportunities, better ideas, and better income flowing in your life.
Your big business dreams are more than possible, you can build the company and create the life you truly desire, but as with everything valuable, there is a cost. Manifesting your business dreams will cost you time, talent, sincere effort, and intentional investment. Information changes the seasons of your life. Sometimes you will have to invest in materials, books, and programs to take both your mentality and skill set to the next level.
Sometimes the cost of your dreams is simply showing up. I believe that there are people, places, and programs already positioned to help you manifest your greatest desires. You can't hide away behind your computer all the time and reach high levels of achievement. I believe in SHOWING UP.  There are times in life where you just have to SHOW UP for your solutions to unfold.
Show up for your business – generate income
Show up to the gym — exercise and get fit
Show up to the grocery store with a healthy shopping list — buy healthy foods and live a healthy lifestyle and extend your life.
Show up to up level your life with game-changing information and divine connections.
Looking for your next step?
I encourage you to take the Magnetic Manifestation Course, for quick manifestation with maximum accountability and action. You'll literally BLAST through the last few months of this year and do more now than you've done all year long. Click Here to join us!
Have you been manifesting big wins and breakthroughs this quarter? Have any big goals that you want to manifest before the year is over? Let me know below in the comments! I want to cheer you on!