We'd been preparing for months. The excitement built with each stop of the Ultimate Success Tour — from Orlando to Los Angeles to NYC to Atlanta. And finally, on July 27-29th it was here — the International Women's Success Conference!

The conference was truly a huge success. Entrepreneurs, business–owners and professionals came from all over the country and even across the globe to the Universal Resorts in Orlando, FL for three dynamic days of inspiration, excitement, fun, and high-value information to manifest their dream businesses and lives.
Even before the doors opened on Thursday, the atmosphere was electric! Attendees came early and lined the halls before registration opened, anxious to get to their seats for the conference we'd all been waiting for!
We kicked off the event with ice–breakers and exercises to get everyone loosened up and ready to absorb as much information as they possibly could.
I could feel the crowd's energy from the moment I hit the stage. Throughout the entire conference, I knew that there was a genuine hunger for quality information that would truly empower my audience to do what they'd never done before—consistently manifest big results in their business and life.
Based on the feedback we've received and the amazing testimonials, I can safely say we delivered, Yay!
Ariana and I shared so much over the three days of the conference, it would take much more than a blog post to tell you about it. You'll just have to be there next year. I can tell you, though, that we covered the entire spectrum for our attendees and made sure they left with an upgraded mindset, powerful business strategies and tons of resources that they will be working on for the next 30 days and beyond.
As always, we gave lots of practical information that could be implemented right away. We had people using points from the lessons right there in their seats and making money before they even went to lunch. I gave some high–level marketing secrets I've never revealed at a live event before.
My daughter, Ariana, the social media guru, shared some amazing information on how to maximize your social media presence for profit.
Equally important, we spoke to the hearts of our guests. Too many entrepreneurs lack more than just knowledge; they lack clarity, vision, confidence and fortitude. The Women's Success Conference helped them understand that they truly are worthy to live the life they've been dreaming of, and they don't have to back down, shy away or downsize for anyone — even themselves!
Throughout the conference, we heard from some awesome entrepreneurs who are part of my Success Mastery Coaching Program. They told their success stories — some went from making no money to making a million dollars. Some went from making $100,000 to $500,000. Others used the Success Journal and my unique journaling system to script their lives and create their dream careers. One journaler earned $75 in commission on her $30K a year job, after she wrote in her journal that she'd make $100,000 by the end of the year. Another wanted to become a well known celebrity make up artist and now she's known in the industry and her work can be seen on billboards all over Hollywood. Their stories were so inspiring, that many attendees rushed to buy journals and sign up for Success Mastery with the goal of becoming our next success story. We recently opened our program to the public and right now is the perfect time to get involved.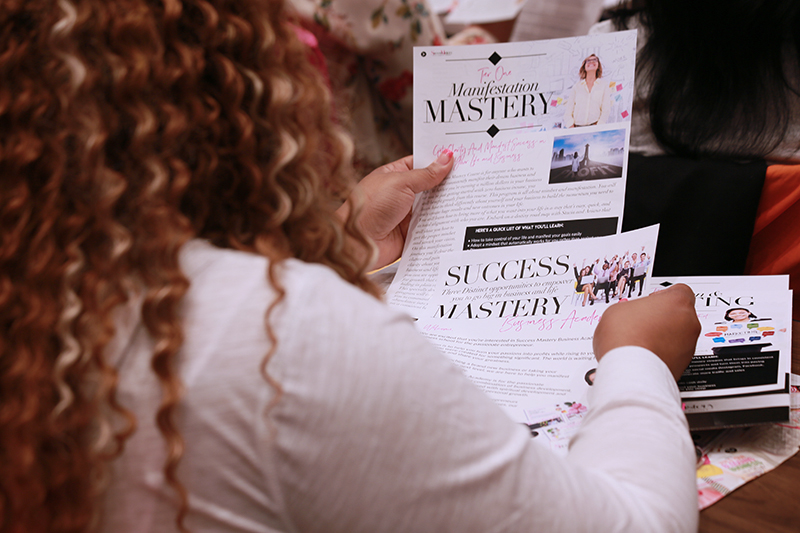 In Success Mastery, we go in–depth with business building systems, breaking them down into amazing monthly lessons over a full year span. If you are an entrepreneur, or thinking about starting a business, I advise you check out Success Mastery (by clicking here) and seriously consider participating this year. You don't want to let another year pass doing the same things and getting the same results.
Friday night was our VIP party. My Success Mastery students and VIP conference registrants had an amazing night! We partied into the early hours of the morning, celebrating life and success and making new connections. Guests enjoyed delicious buffet and desserts. We laughed all night from our guest comedian. We even had caricature sketch artists that were a huge hit! The DJ kept the music great and the dance–floor full the whole night.
We wrapped up the conference on Saturday, and we definitely went out with a bang! One of my favorite parts of the conference is listening to the stories of transformation from attendees. We heard from many entrepreneurs who had gotten hundred, thousand and million–dollar ideas while sitting in the conference sessions. Many had implemented the strategies and techniques they had learned and were already increasing their profits.
We also heard from many entrepreneurs who had been set free of emotional barriers — from feelings of unworthiness, the imposter syndrome to fear of success (and failure). It's so see others lives transformed.
Somehow, every year the conference just keeps getting better and better. I have to say this was one of our best conferences ever. The emails, Instagram posts, Facebook statuses and Tweets I've seen in the days after the conference and even now tell me that it was truly a life–changing three days for all who came. I hope this conference review has been inspiring for you, and I certainly hope we'll see you next year in Orlando! If you missed it, but you're ready to take your business to the levels you've dreamed of now, click here to get the info on Success Mastery!