Have you ever considered how your emotions play a role in your productivity? Maybe you started your day feeling great and hopeful and then something happen that steals your joy, now you're feeling low, can't hardly think straight and consequently get nothing done.
I Know that I've been there before, stuck in the constant ebb and flow of my feelings. Then, I noticed that when I am feeling good more good always come my way. Projects seem easier to accomplish; the right people and things always align to help me achieve my goals. I've also noticed a stagnation of manifestation when I'm not feeling my best.
Through this observation I've come to realize that in order to constantly produce on a high level, you have to take control of your feelings and stay positive. I know you're probably thinking, "that's easier said than done" but I must disagree with you here. See, what you may have accepted as a natural response to a negative situation may be the very thing that's holding up your goals from manifesting. Though challenges may arise, your response to them is determining your overall outcome.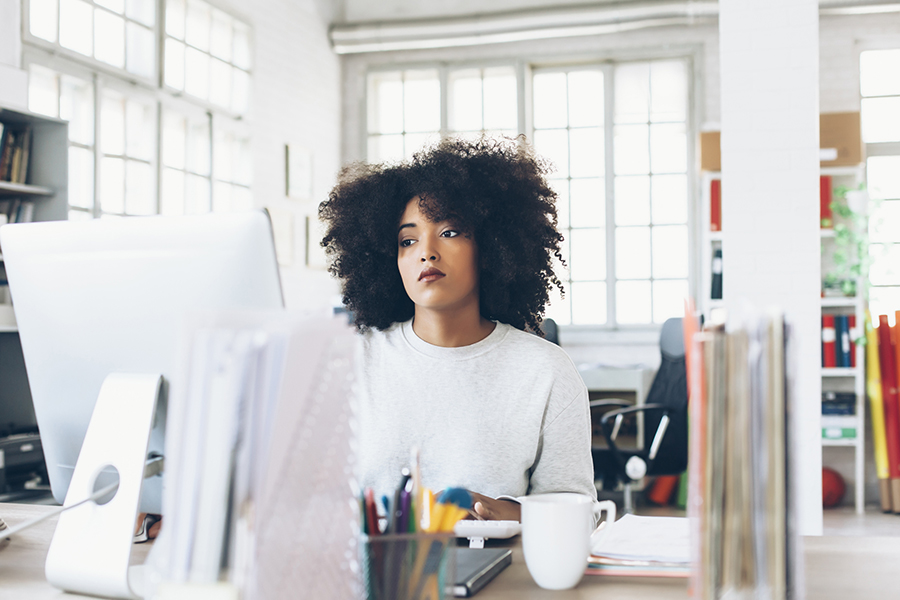 Negative feelings create resistance and blocks to manifesting your desires. Your feelings affect your thoughts and vice versa. A negative thought left uncheck can wreak havoc in your day and that can turn into weeks or even longer!
Maybe you've been practicing all the right techniques of manifestation your desires: journaling, visualization, affirmations, etc. but still haven't gotten what you want. If so, then I think it is time for you look inside, pay attention to your feelings, make the adjustment so that you can finally get your desired results!
The good news is that you can change your state of mind and turn your feelings around so that you're in an overall happier place and once again able to produce fabulous results in your business and life.
I once had a client who had been doing exceptionally well in her business, but all of sudden was experiencing a panic attack. She said she started thinking that she wouldn't be able to consistently produce at this level. That one bad thought led to another and another and she was completely in a panic about her business. That same day, she had three canceled appointments and went outside to a flat tire on her car. (bummer)  It seemed like nothing was going right in her life and now she was unsure if she could stay in business!
What she experienced was really unfounded fear that caused her to panic. Yet, as a result, that which she feared began to manifest in her life because she was so focused on it. I helped her to see that her business was NOT failing. And that she could easily continue on earning high numbers in her business, but she would have to accept this new normal and don't shrink back.
I told her to answer the negative thoughts with positive ones that made her feel empowered. She began saying, "Making money is easy! I am a money magnet, my appointment book is overflowing with paying customers."
She calmed down, refocused and her situation improved immediately.
The key to bringing more money into your life and business is to feel good about money. Don't spend anytime focusing on the lack of money. This will only make you feel worse. Instead, be grateful for the money you already have and start to say and feel, "I have more than enough money. There's an abundance of money on its way to me now…Making money is easy!" Give thanks for the money you are about to receive. Allow mind to accept that you have an abundance of money, feel what it's like to have an abundance of money and soon more money will come to you.
Early in my business I had become frustrated with clients who weren't paying their bills. I was often talking to my assistant about it and sharing my frustration. Then I realized that the more I complained, the worse the situation was becoming.
So, I immediately set out to change my situation to attract my ideal paying clients. I created file folders and put the names of my ideal clients and a description of them on the folders. I had names like Pay on Time Patty, Do all the work Dottie, Getting results Gertrude. I created an affirmation that read "I only work with my ideal clients who take fast action and are excited about results in their business and life."
Once I did this my outlook shifted.
I started attracting my ideal clients! My energy and outlook welcomed this new kind of person in my business and we worked well together. Once I stopped focusing on my problem and became solution oriented, My feelings improved and I started producing a more positive outcome in my business.
I know that there are always things that can shift our mood. It could anything from a causal conversation, a disagreement at work, you stubbed your toe, woke up on the wrong side of the bed…and so on… Some people are always moody (I hope that's not you). Nevertheless, you have to constantly adjust so that you can get the right results that you want.
And like I mentioned earlier, it's not that hard to do. All you have to do is focus on feeling good.
When you are feeling really good, only more good will flow from you. So, the fastest way to be more positive is to stay in tune with how you are feeling. Work to stay in a good mood all the time.
Here are a few ways to do this.
1. Binge on positivity. Watch several positive movies that make you feel good, laugh a lot or inspire you.
2. Go to places that make you feel good. Visit a museum, park, church or any place that instantly lifts your spirit and puts you in a great mood.
3. Talk good talk. Surround yourself with positive conversations that are uplifting.
4. Use my positivity calendar to infuse your life for a whole month with 30 days of positivity.
5. Script a successful day everyday in your success journal.
This is just the beginning of what you can do to be in a better mood.
Download my free checklist and calendar now to boost your mood and start experiencing great results in your business and life.