When talking to clients about expanding their business, I sometimes hear that statement that immediately lets me know that this person is feeling trapped in their circumstance. "I want to do "xyz" but now is not the time, I already have too much going on."
As a business owner, I know what it's like to feel trapped in my circumstance, and unwilling to move forward because there's already so much going on. But I learned the hard way: You'll only lose ground when you're standing still.
To some, when there's a lot going on, your first instinct is to stop and do nothing. It's like you're waiting out a storm and once it dies down, you can resume with business as usual. But the truth is, the longer you wait, the more ground you're losing. Things don't improve without movement and progression.
To ensure continued progress, even during times of crisis, or overwhelm I created a simple blueprint as a reminder to keep on moving.
1. Step back and see things with from a different angle. I always have a lot going on. In fact, I love it. There's always a new product in the works, or project we're planning, plus events, parents, etc. Every once in a while, I take a step back to evaluate all the pots on the stove to see where we're standing and what needs to happen next. I have found this process an important part of my business because there are times when I've discovered that I changed my mind about a project and it's time to move in a new direction. The only way that I was able to come to that conclusion was through stepping away from the business to look at things from a different angle. I clear my mind, list my priorities, review what's active right now and decide my next steps.
Stepping back doesn't require a full-on vacay…sometimes it can be one or two hours or just one day to relax, re-evaluate, restructure and resume with life. I come out of this space with clarity, focus and confidence. It's a very refreshing experience that relieves stress and eliminates confusion. Try scheduling in mini-breaks quarterly so that you can regroup and recharge.
2. Get Organized. I have to admit that I am an organization addict. I learned a long time ago that order precedes increase. When you eliminate the chaos you think clearly. The mere existence of disorder can make you feel overwhelmed. Organize your space so that you have room to think without the clutter bothering you. Start with something simple like cleaning and organizing your desk and office.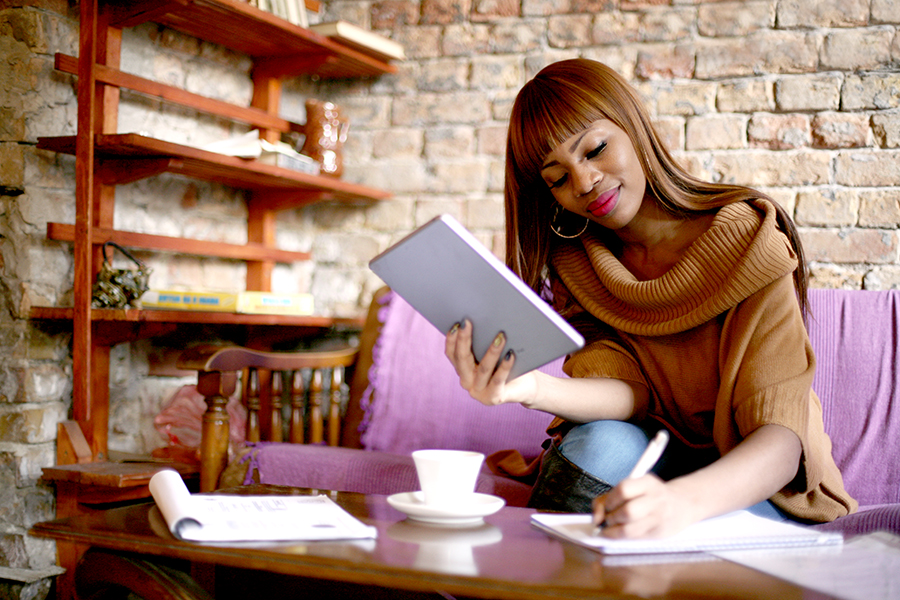 3. Create a daily plan. Write what you want to get done for the day in list form, and use it to determine how to prioritize your business or professional life, and your personal life. Write lists daily so that you can track your progress, and make adjustments when necessary. Lists allow you to get all of the pending obligations out of your head and on to paper so that you can organize, prioritize and delegate tasks to be done. I use my Success Journal to list out all of my activities and responsibilities for the week. Then, I prioritize the list and make a condensed version with only the highest priorities. This list is what I work from daily. Once I have scratched things off, I go back to my original list to add more.
4. Silence distractions. With so much going on in the world, it is very easy to get sidetracked by worrying about many things that don't directly affect you. While I stay abreast of what is going on in the world, I give myself a limit on how long I will dwell on topics (it's somewhere around 1-2 minutes tops). Then, I move on with my day, focusing on what is important for my life and business.
The best way to silence the distractions is to fill up on positivity. When the conversation starts going the wrong way in our office, we immediate cut it and start a gratitude break. We go around the room and every person shares one win that they are grateful for. This exercise shifts the energy and our focus so that we can be productive and successful throughout our day.
5. Keep a journal of your entrepreneur journey. Sometimes we feel out of control when there's no record of our wins to refer to. Through journaling, you can keep track and review your success along the way. Dream, plan and sort out your thoughts on paper. I often have brain dump sessions where I write down every nagging thought that comes to me. I practice free flow writing to clear my head and heart. Once it's all out, I go back and sort through what I've written. I delegate what I can and make action plans for the rest or just leave some things right on the paper…no action needed. You will feel so refreshed with clarity of thought and mind when you practice daily journaling.
6. Be grateful. Write a daily gratitude list in your journal of what you've accomplished so far. Gratitude opens the door for more success in your life and business. It will also keep you encouraged and focused on what really matters. It's easy to fall into the trap of focusing on what you're missing instead of what you have. I end each day writing my gratitude list. Then, the following morning I review that list during my meditation time to keep me inspired. A daily gratitude list will keep you grounded, grateful and present about all the good in your life, which will enable you to attract more good to you.
7. Shape your perspective with good books. Read to improve your thinking and increase your learning. You're in a season of investing in learning. You'll need this in order to build a successful business. Good books are a big key to your success. I suggest reading Enjoy Life and Success Attraction Notes and Quotes for creative thinking. You can also read Think and Grow Rich, a great foundational book for success in life and business.
8. Take a No Excuse Approach. To be successful in business and life, you can't allow every setback or crisis to knock you out of the game. Like you, I face many obstacles, from family emergencies, health concerns to business issues…but I have a personal resolve to never give up. I tell myself, "Stacia, you have to get on with the business, so turn your attention to what matters most." Everything will all come together.
Want a print version of my blueprint? Download it here =>

So let's chat about this, which point resonates with you and why? Comment below.